A business continuity management software helps companies identify risks, conduct business impact analyses, improve organizational resilience, and implement policies and procedures to minimize the impact of possible disruption.
Digital platforms such as business continuity management help companies to continue operating as normal in the event of unforeseen circumstances such as power outages, cyberattacks, and floods.
These platforms not only provide a solution but also offer a complete plan of action so that businesses know what to do during setbacks.
Since we live in an interconnected world, software to manage your business continuity is essential for survival. It takes out all of the guesswork associated with manual planning and saves time and effort for continuity plans.
In this guide, let's start by reviewing the 10 best business continuity software with enterprise risk management and business continuity solutions.
Best Business Continuity Software
We have reviewed business continuity software for a number of features such as risk assessments, positive user evaluations, and the functionality they offer. Please note that most of the BCM tools do not have a pricing section on their website. BCM companies will book an appointment with you for a demo, understand your requirements, and develop custom plans.
1. NContracts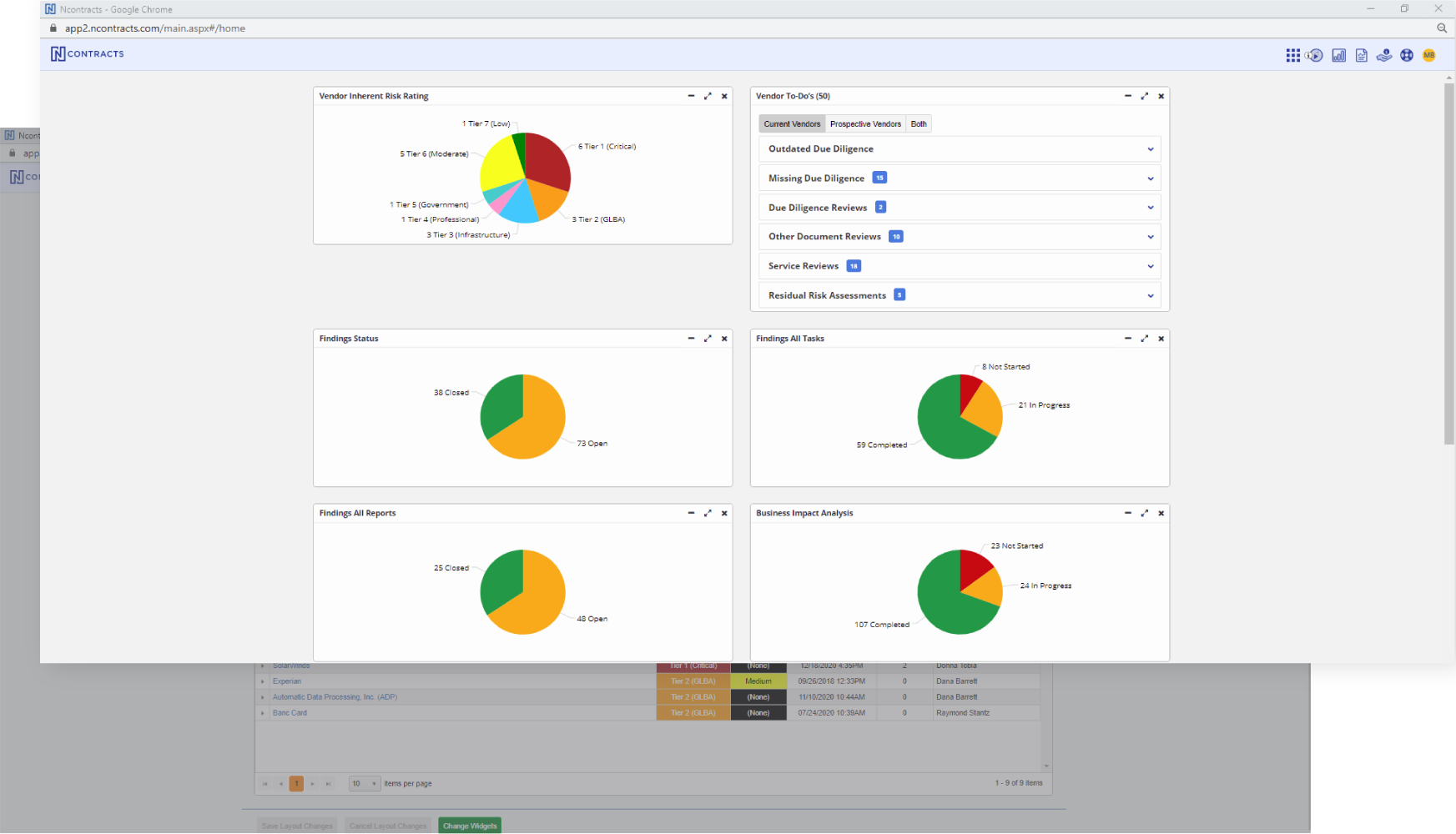 Many financial organizations use manual processes to manage risk and compliance. Departments struggle with poor coordination resulting in severe fines and penalties.
Ncontracts provides comprehensive solutions to cover the whole risk lifecycle and address enterprise risk, vendor risk, business continuity risk, compliance risk, audit risk, and cybersecurity risk. Customers have the option of building a whole corporate risk management system or selecting modules for certain purposes. The pricing will vary based on the solution.
It helps you to develop a detailed business continuity plan without any hiccups. This is a great choice of business continuity software for the banking and finance industry.
Pros:
Easy-to-use
Ability to integrate
Accessible software
Trained Staff
Cons:
Single Sign-on
Custom Report Writing
Pricing:
No pricing plan on the website. You can request a free demo and Ncontracts will provide you with a quote after understanding your requirements.
2. BC In The Cloud
In order to assist businesses in creating and managing their disaster recovery and business continuity plans, BC in the Cloud offers business continuity software alongside their managed services. This ensures minimum downtime and helps businesses in their disaster recovery plans. This is a SaaS platform that is cloud-based, meaning you can access it from multiple locations across the world.
Adding to this, you will continue to have access to the business continuity plan even in the case of server downtime. It has a number of pre-defined templates and maps that businesses can configure and customize for implementation.
The program is functional right out of the box, which you alter as well to suit the demands of the company. There are two price categories to choose from.
The reporting tools and dashboards aid in locating susceptible parts of the company.
Pros:
Pre-defined plans
Customized reports
Supplier track record
Automatic workflows
Mass communications
Disaster recovery
High level of design
Configuration flexibility
Customer service is responsive
User interface is simple and intuitive
Cons:
Difficult to migrate code
Limited advanced reporting
Pricing:
Not available on the website.
3. Archer Business Resiliency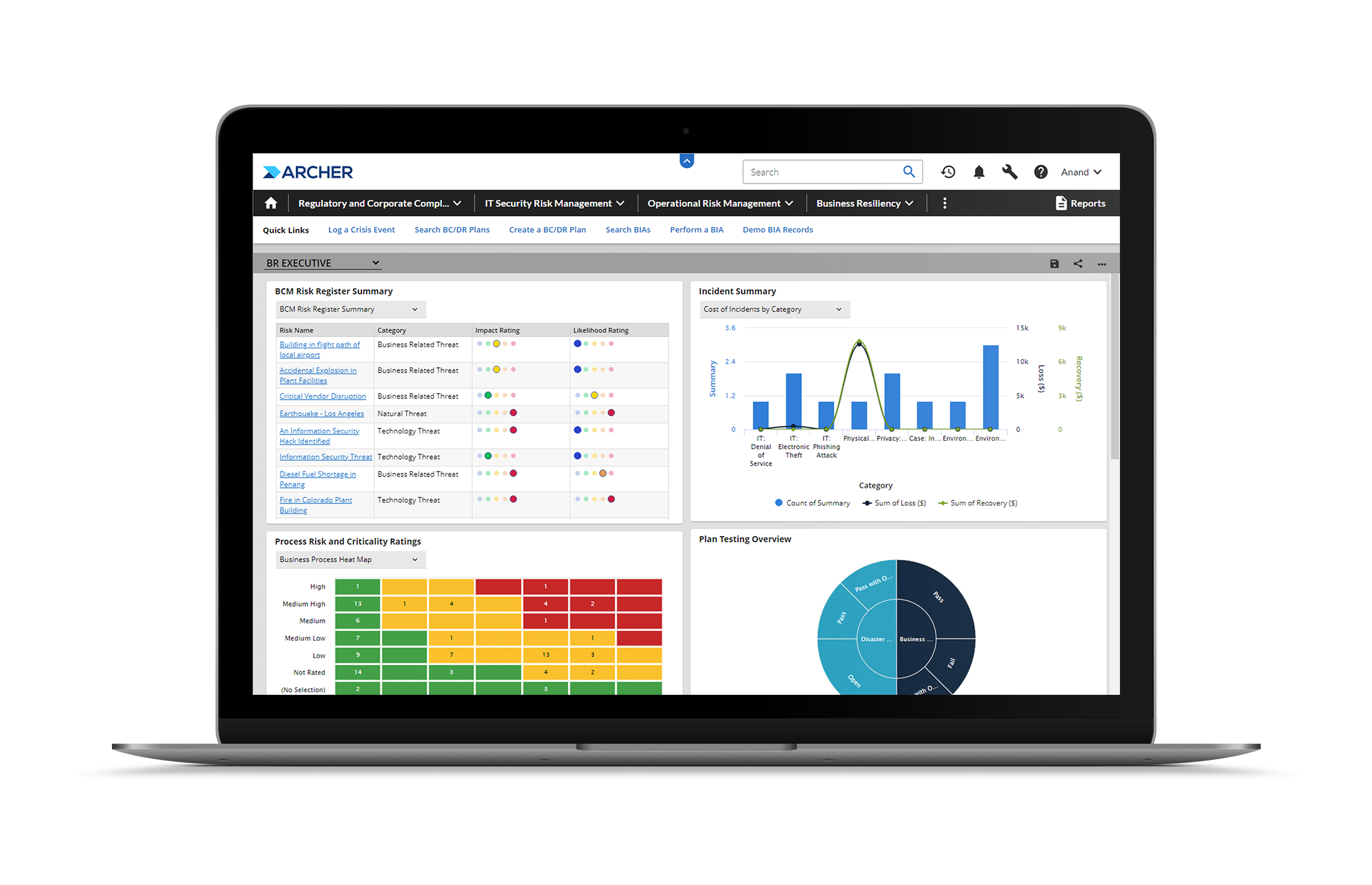 To keep normal business operations even in the event of a disaster, organizations may identify essential processes with Archer Business Resiliency. The platform increases corporate owners' awareness of the hazards they face, making it simpler for risk management teams to convince executives that they are in need of funding and resources.
Companies can identify which measures they need to take to address problems, prioritize issues, and divide work to the right team members by documenting and categorizing events as they happen.
A great feature of Archer Business Resiliency is automation, making it easy for teams to automate tasks and speed up the process of response times, testing, and plan execution.
Pros:
Business impact analyses
Powerful tools to leverage automation
In-depth insights on risk assessments
With adaptable workflows, organizations have complete control over their processes
Specific information helpful for tracking
In-depth reporting
Flexibility to adjust the platform with customized features and options
Cons:
Additional features come at a high cost
Substantial coding expertise is required to make use of all the features
4. Castellan Solutions Software
End-to-end planning for business continuity management by Castellan Software combines an organization's operations into one platform. SSO and two-factor authentication make it simple for authorized personnel in getting access to the application. This extra layer of security is important so that no suspicious activity takes place.
Castellan helps organizations recover from natural disasters and cyberattacks. It has a number of features such as operational resilience, automation, emergency notifications, business continuity, disaster recovery, and compliance tools.
With all data, you can create a visual idea of how the disaster recovery operations will perform.
What we liked about it is that it offers a management solution but also provides businesses with practical advice for enhancing continuity planning. There is no pricing information on the website.
The platform's cloud-based design speeds up deployment and implementation. Businesses can assess the potential effects of various challenges on their operations and specify the measures necessary to minimize the harm using business impact analysis. After that, they may test those plans and make any required adjustments.
Pros:
Two-factor authentication with single sign-on (SSO)
Reports on impact analysis
Risk evaluations
Customizable dashboards
Disaster recovery
Simple User-Interface
Quick Technical assistance and reporting
Automated governance
Cons:
Less customization
Some users have encountered SSO issues with the mobile application.
No pricing information.
5. RecoveryPlanner's RPX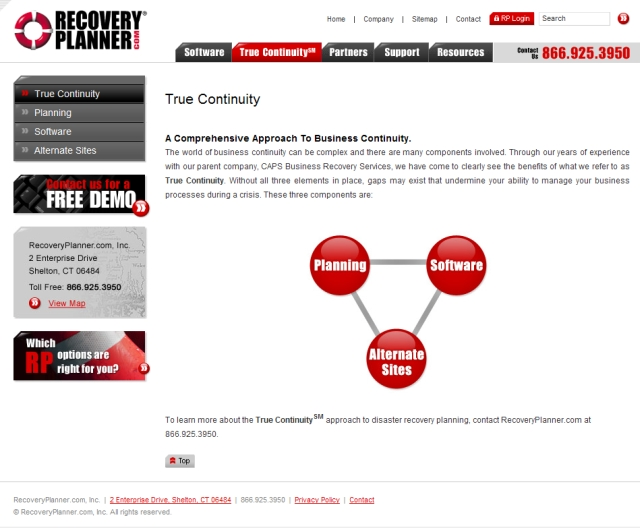 A complete risk management system, RPX by RecoveryPlanner integrates business continuity, incident response, cybersecurity planning, vendor management, and more. This isn't as popular as many other disaster recovery programs on this list. However, it has solid reviews from users appreciating quick and easy installation and seamless integration with existing programs.
This makes it easier for firms to keep track of their data in a centralized location and increases visibility into the Business continuity processes. Multinational companies will appreciate the multilingual interface and assistance. Team members may manage their incident response tasks on the go using mobile applications.
RPX also helps you in data protection, ensuring a seamless migration experience from the previous BCM software.
Recovery Planner combines the convenience, and speed of a native mobile app. You can give your team access to the program while taking part in tracking and monitoring the response to an incident, from anywhere at any time!
Pros:
Positives customer support team
Business Continuity management
Cyber Security Planning
Operational Risk assessments and disaster recovery
Emergency Response
Operational resilience and Risk assessment
Rave reviews on different platforms
Customized program to match various business requirements
Aids teams to determine the best methods to use it
Cons:
The mobile application has fewer features
Glitches and bugs
6. SAI360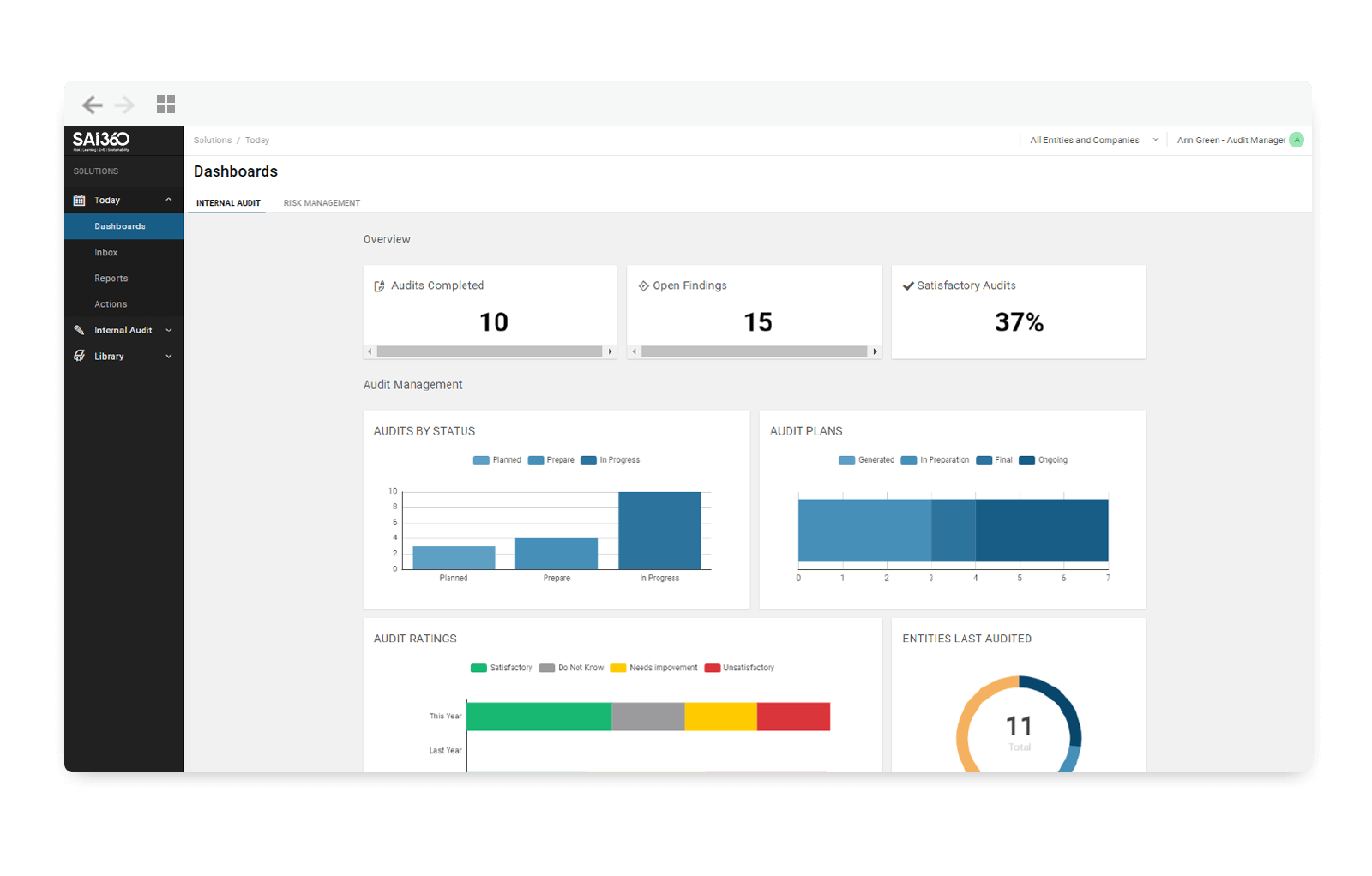 A cloud-based tool called SAI360 aids firms in risk management and catastrophe planning. It provides a mobile app that allows users to handle pertinent chores and receive real-time notifications. Businesses may design new processes and change old ones to automate risk management and compliance tasks thanks to the process modeling features. Although many of the dashboards are ready to use right out of the box, businesses may also customize them to suit their particular requirements.
To identify any possible hazards, business continuity maps are also connected to the organization's risk management framework. Additionally, SAI360 has bilingual material that is ideal for multinational corporations.
Pros:
Beneficial solution for configuration
Special attention by the staff
Accessible interface
Convenient reporting
Interactive dashboard features
Compliance management
Operational resilience
Operational risk assessment
Disaster recovery
Cons:
Under-resourced support teams
Long waiting time
Language barrier
Pricing:
There is no pricing information on the website.
7. Fusion Risk Management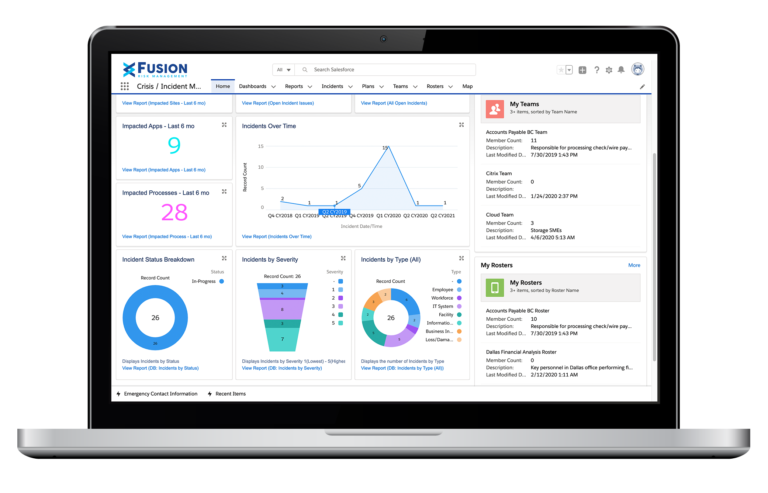 Organizations may practice handling catastrophe scenarios using the Fusion Framework System, preparing them for real situations. Role definitions make it clear to employees in charge of emergency notification challenges.
By establishing a threshold for downtime and lost productivity, impact tolerances enable businesses to automate their first reaction procedures. Fusion also comes with an intuitive user interface with a range of features enhancing the robustness of all business operations.
Pros:
Robust reporting
Easy-to-user activity
Consolidates crisis management for better visibility
Flexible platform
Risk evaluations and assessments
Visual process maps
Customizable risk tolerances
What-if analysis
Disaster recovery
Incident management
Cons:
Pricing:
There is no pricing information on the website.
8. iGrafx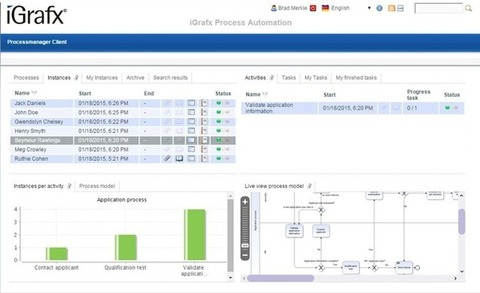 Organizations may establish the procedures they need to function even in the event of a disaster with the aid of iGrafx. For a number of sectors, it also involves compliance tests for ISO, HIPAA, GDPR, and other regulations. Businesses may increase compliance and carry on as an ongoing concern amid a serious incident.
You can develop business continuity plans, disaster scenarios, and recovery plans using visual process maps. The process knowledge management capabilities, intended to remove bottlenecks and possible dangers, also allow users to exchange new processes.
Pros:
Easier adoption across various departments
Accurate and up-to-date process knowledge
Easy automate process maps
Capable customer experience
Intuitive workflow
Cons:
Difficult to integrate with other tools
Lags in the program even with simple processes
Pricing:
Interested organizations must get in touch with the iGrafx sales team for price details.
9. Oracle Risk Management Cloud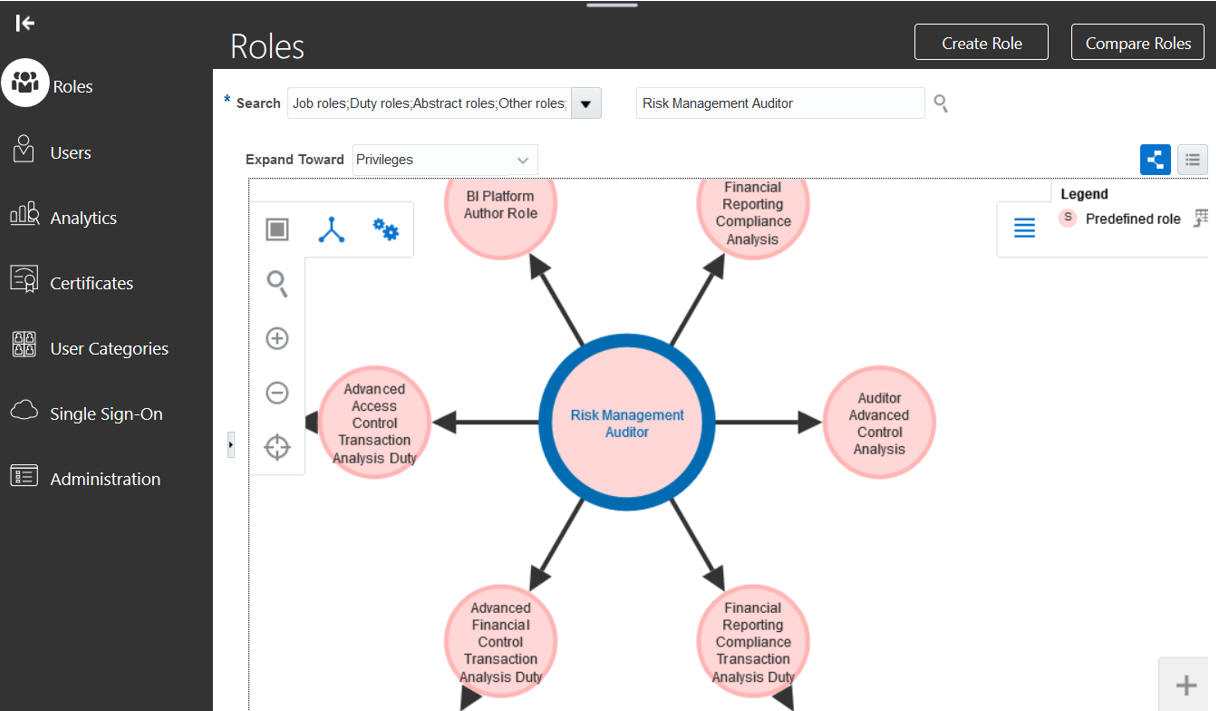 Oracle Risk Management Cloud employs automation and artificial intelligence (AI) to reduce fraud and improve the flexibility of the organization's operation. These are the core areas of this program and it does not have a complete disaster recovery plan.
It validates access to important functions and data to ensure authorized users with confidential information. It monitors any suspicious attempts of logging into the system and blocks them.
To stop hazardous activities, it also analyses user activity, financial transactions, and changes to crucial operations. Businesses use the platform to track any compliance problems they may have and take corrective action.
Instead of concentrating on disaster recovery, Oracle Risk Management Cloud focuses more on the business continuity components of preventing fraud and cyberattacks. Integrating with Oracle ERP to stop any suspicious actions increases the resilience of enterprises.
Assigning user permissions is simple in response to pre-built security rules, which also store all important data at a data center.
Pros:
Reduce false positives
Customizable
Pre-built security rules to block suspicious attempts
Automates roles
Monitors transactions
Prevents fraud
Audit management
Operational resilience and risk assessments
Cons:
Not easy to customize
Less reporting options
Pricing:
It is a part of the Oracle ERP and hence pricing information is not available on the website.
10. Logic Manager
LogicManager is an old and reliable name in the field of disaster recovery, however, it targets enterprises with an ERM (Enterprise Risk Management). The ERM is a reliable BCM tool that enables businesses to leverage automation, prepare and plan for unexpected consequences, and improve performance.
It has a SaaS cloud-based platform with more than 120-point solutions to address the various challenges enterprises face in the 21st century. These points have a number of What-If scenarios to provide logical solutions to businesses recovering from disruptions.
The company has received two awards that prove the effectiveness of its tool:
Ability to Execute – 2020 Gartner Magic Quadrant for IT Risk Management Tools

Leader on the 2020 Forrester Wave™ for Governance, Risk, and Compliance Platforms
The built-in disaster simulations help enterprises in practicing and improving continuity plans. As is the case with other BCM software, there is no pricing information on the website.
Pros
Disaster simulations
Business impact analysis
Centralized review framework
Automated testing
Pre-built analysis templates
Customizable workflows to meet business needs
Easy to deploy company-wide
Good for reporting and tracking business risk
Cons
Can have a steep learning curve
Some users want more standard templates for out-of-the-box usability
The Best Practices For Business Continuity
Prepare your staff for natural disasters since downtime costs firms millions of dollars. To develop detailed business continuity plans, it is important you use the best business continuity software.
However, the definition of the best business continuity management varies from business to business. One BCM software can offer more benefits than the other one. Go with software that has good reviews and fits your requirements.
Keeping a business continuity plan on the cloud, you can still access it even if your data center fails or there is a power outage. Besides, cloud-based business continuity software makes sure that everyone on your team is following the same strategy, even when they are working from different locations. Think about more cloud-based software that enables workers to operate from home, which is important if you are having a hybrid work policy.
Make sure to include all partners in your business continuity strategies as well. While a tsunami in Japan might not have a direct impact on your company, it can force one of your suppliers to close, causing you to find a replacement supply for your product needs. You need to change, thus the need for backups.
What Must a Business Continuity Plan Address?
To choose what to prioritize in a crisis, you should evaluate all of your crucial company operations before drafting a business continuity program. Identify your largest risks and begin formulating the activities you must take to reduce them.
Some businesses have a higher risk due to power outages, whereas others in vulnerable areas are prone to natural disasters. Understand your organization's mission-critical processes. To solve operational resilience and gain a business edge, you need a BCM that integrates well with your business processes.
Include contact information for everyone in the chain of command as well as outside employees, such as firemen and utility providers in the plan. Make sure you update this contact information.
In case of an emergency, a business continuity plan must also include information about distant locations and workplaces. What should staff do in the event that the workplace floods? Can they operate or do they need to go to another office location? Keeping data in the cloud, businesses with a lot of saas applications can adapt when disaster strikes.
But, those that have on-premises data should have backups kept offshore, at a distance that prevents a natural disaster from damaging both the main office and the backup location.
Conclusion
Now that you have a good understanding of how business continuity software operates, it is time to start using the one that suits your business requirements.