Interested in learning how to write and format your technical writer resume?
You may have excellent writing skills and have helped companies in managing their documentation.
You apply to different technical content writer jobs but receive no response.
Then you take a glance at your resume format and realize it's 2 pages long. And you know hiring managers toss out two-page resumes right away. So you sit down to write your professional technical writer resume and have no clue where to begin. That's where this ultimate technical writing resume guide comes in to help you.
This detailed article has the best technical writer resume examples to help you out. Here's what we'll be covering in-depth:
Outstanding technical writer skill resume samples
What skills you need to add to your resume
How to differentiate yourself from other candidates
The dos and don'ts of a technical writer's resume
If you're looking to learn via video, watch below. Otherwise, skip ahead.
Simply put, your technical writer resume needs to convince your prospective employer that you can add value to their organization. You need to prove that you are the best writer with technical knowledge to write end-user documentation and technical documents. Let's see how you can do just that.
How to Write a Technical Writer Resume
As a technical writer, you're solving a complex set of problems that people deal with daily. Onboarding documents, end-user guides, and tutorials all serve as solutions to problems.
Remember, when writing your resume, you're reflecting on your skills as a problem-solver.
 I see so many technical writers waste their time by mentioning the following:
Solid use of Google Docs and Microsoft Office
Ability to work in a cross-functional department
Highly energetic and able to listen to instructions
Expert in writing user manuals and software guides
Well, guess what? I'm not interested in any of it. None of it matters to me. This is all over the internet. Everybody is using these terms.
It is obvious as a technical writer that you need to have a solid grip on using MS Office and Google Docs, as well as a can-do attitude. Where did you differentiate yourself? Do you know what I'd like to see?
How did your technical documentation improve conversions?
How did you delegate tasks to complete technical documentation?
Did you ever work under pressure? If yes, how did it go?
What types of content did you write for the end-user?
How are you different from the rest?
Are you quick at learning new technologies and deadline-oriented?
Do you tend to work alone or trust your team?
Focusing too much on what you did shouldn't be a top priority. Instead, be specific and mention the impact of your work.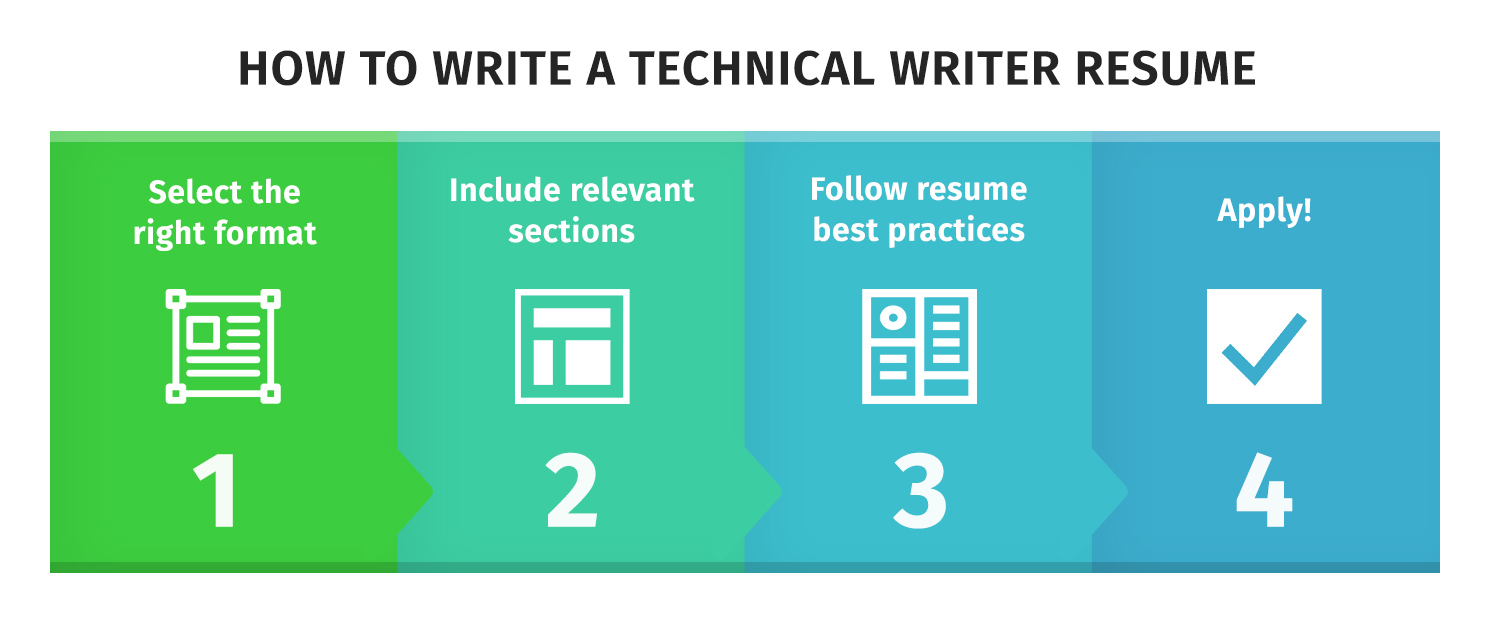 What is the Best Technical Writer Resume Format?
There are three acceptable technical writer resume formats:
Reverse Chronological (Most recent work experience first)
Combination (ATS compliant)
Functional (Non-ATS compliant)
You need to make your technical writer's resume compliant with ATS (Applicant Tracking Software). Did you know that 98% of Fortune 500 companies use ATS to filter out irrelevant resumes?
ATS scans all resumes, and only accepts those with the right keywords. This saves the time and effort of hiring managers to go through only relevant technical writer resumes.
To make your resume compliant for ATS, read the job description. Look for keywords such as developing, writing, and editing user guides and training manuals.
Now, go ahead and update your skills and work history sections with these types of phrases.
A reverse chronological technical writer resume format with the right keywords is a good option to highlight your CV.
What Sections to Include in Your Technical Writing Resume?
Here's a list of sections you need to include:
Header
This includes your complete profile information such as Full Name, Title (Expert Medical Writer), mobile number, Linkedin profile link, city, and email address.
Do not mention your complete address. City and State are fine.
Experience
Now is the time to shine. Your professional work experience should follow reverse chronological order. But here are a few points to note before doing anything:
Not all of your technical writing experience will be relevant. Hence, only include the parts relevant to the job.
Be specific and make it easy for hiring managers to understand you.
Hiring managers do not have time to go through all resumes.
Make it compliant with ATS.
Include your experiences in reverse chronological order. Your employer needs to know your most recent job experience to consider you for an interview call.
Your latest and most relevant job experience should be listed at the first, followed by previous relevant experiences. Here are some factors to take into account:
Be specific about what you did
What was the impact of your work?
What was your designation?
How long did you work as a technical writer?
Junior Technical Writer Resume Experience Example
You started your career as a junior technical writer 10 months ago. By now, you have enough experience working on different projects and reporting to a senior technical writer/manager.
Is a 10-month experience enough to list on your technical writer resume?
Yes.
How do you convert this to an impressive story that convinces the hiring manager?
Don't worry. We're here to help. This is what you need to include:
The topics you were writing on.
The type of content you wrote.
Your reporting authority.
The goals you were instructed to achieve.
Even at the junior level, don't let your entry-level experience hold you back from applying to better positions.
Associate Technical Writer
Cloud.ly, marketing automation software
Hours worked: 20 per week
Wrote training manuals for cloud-based programs.
Updated documentation for internal usage.
Helped to onboard of new customers.
Senior Technical Writer Resume Experience Example
A senior writer has more than 5 years of working experience writing anything from simple documents to extremely complicated technical documents. A senior writer has a team of entry-level and junior writers in the team, assigned to various tasks and roles.
But before writing your senior technical writer resume, there are some points you need to consider:
Mentioning all work experiences is not required for every job role.
Include relevant skills, qualifications, and work experience.
Making your resume ATS compliant should be a top priority.
A tailor-made cover letter and resume are important to be considered.
As a senior technical writer, you will have a lot to talk about on your resume. Again, relevancy is the key here. Making small amendments and fine-tuning a cover letter and resume for each job role is critical. Here's what should go on your senior technical writer resume:
Team members reporting to you.
Delegation of tasks and responsibilities.
Relevant skills, qualifications, and certifications.
Achievements and milestones

Here is what the job description can look like:
Certified Senior Technical Writer
Dates of Employment: March to December
Creation and implementation of user documentation,
Maintained system records, and developed a list of Visio diagrams for the management.
Developed SOPs.
Created user onboarding documents and videos.
Prepared case studies of clients.
Skills
There is no shortage of technical skills to add to your resume.
But, here's the catch.
Not all skills will be relevant to the job. You need to decide which skills to add after careful research of the job role.
Here are some technical skills you can add:
End-user documentation
Visual communication
Audience analysis
Tutorial writing
User guides
Research papers
Standard operating procedures
Functional specifications
Writing style guides
Research skills
Quality assurance
Also mention the tools that you use. Here is a list of the most common ones:
Camtasia and Snagit
Markdown
Zendesk
Adobe Acrobat
MadCap
These tools shouldn't be mentioned separately. Instead, you should list them in bullet points under your job title. For example, "Used Confluence to manage documentation for thirty engineers working on our editor portfolio product."
Now that you've added technical skills and software tools, you also need to mention the soft skills. Only do so if you can back them up with numbers and specific details. Otherwise, they're a red flag on your resume. Don't just list the skills like this:
Teamwork
Computer skills
Multitasking
Time management
Instead, say "Managed three freelance content writers to output fifty documentation articles for our knowledge base."
What type of technical documentation are you expert in? List them in the same format as we just discussed:
Software development
Terms and conditions
Design guidelines
Legal documents
Education
Only mention degrees relevant to technical writing. Skip your educational background if it doesn't fit the job criteria.
Simply listing a Bachelor's Degree won't help you with your job application. Be specific. What was your thesis project about?
For example, the following is not impressive:
Bachelors in English, San Diego State University.
Instead, talk about academic accomplishments and subjects that demonstrate your technical knowledge. Like this:
Bachelors in Computer Science, San Diego State University or Certified UX Writer
Certifications
Technical Writing has grown to become a lucrative career. And as always, certifications help you to stand out from the rest of the candidates.
Certifications prove you are constantly honing your skills and staying one step ahead in a competitive job market.
Certifications cement your expertise and enable you to charge higher rates. Employers immediately resonate a technical certification or course with authority, increasing your likelihood of landing the job.
Here are some of the most prominent technical writing certifications that immediately distinguish you from your competition:
Achievements
As a technical writer, what differentiates you from others?
Your skills, qualifications, and certifications matter, only if they translate to quality results for previous employers.
For every achievement, you need to provide a metric, which means a solid number.
What was the quantitative impact of your job in the previous company? Can you prove it?
I come across hundreds of technical writer resumes, filled with the following sentences:
"Worked in cross-functional teams with engineers, designers, and the business in an agile way."
"Wrote user documentation."
Yes, these are important, but what was the impact of user documentation?
A technical writer solves complex problems of accessibility.
Your recruiters are less interested in knowing the tools you used, and more in the impact your work had.
You also need to justify as you put down those numbers on your resume.
Hiring managers look for the following in your resume:
Accomplishments
Efficiency
Goals
End result of user documentation
Focusing on accomplishments in your resume is a great way to impress your employers. Use actual numbers to show the impact of your work.
Here are some excellent examples:
Increased end-user satisfaction by 35% and received stellar feedback for complex documentation.
Composed 100,000+ words of documentation for multiple technical products, including B2B web apps, SaaS products, and internally used software.
Helped 20+ clients in developing a complete knowledge base for their products.
Composed documentation for troubleshooting and reduced email tickets by 25%.
Interests
We have not yet come up with any technical writer's resume listing interests as a separate section. Employers do not pay attention to it. They are concerned about what matters the most to them; performance, numbers, and skills.
As a rule of thumb, leave out this section. This does not have any impact on your hiring.
Languages
A vast majority of jobs in the US require you to be fluent in the English language. Many technical writing jobs demand the ability to write in another language. If you have this skill, then this is a huge plus and will immediately open doors for you.
Employers also demand a basic sense of a programming language such as Python, and JavaScript, to write technical articles.
This is something you need to mutually decide with your potential employer. If there is a demand for any other language, it is better not to list it unless you are an expert in it and it's relevant to the position.
For example, here's one job post on Upwork. The employer is demanding a technical writer with a programming background:
Many European countries like France, Spain, and Germany prefer to hire candidates with expertise in their native tongues.
Technical Writer Resume Example
Here's an example of a technical writer resume that I came across and loved.
Every line says how they can make an impact. They also avoid using an objective, job summary, separate skills section, and irrelevant experience. The only improvements I'd make here is breaking up the paragraphs into shorter bullet points and limiting the resume to one page.
They also mastered including their skills, software knowledge, and any other relevant experience in their work job details. They don't just list SharePoint under a "Skills" section. They write, "Consolidated information across nine individual websites, using Microsoft SharePoint…" That's how it's done.
My Personal Technical Writing Job Application Experience
When I first began my technical writing career, I was also in your position, applying to jobs and expecting calls in return. Even though I had two bachelor's degrees, I was having a hard time landing the right job. Here were the results using this shotgun approach:
Applied to over 150 jobs
110 rejections
0 invitations for an interview
"Something is missing. Why am I not even getting a response back?", I kept asking myself.
Then, I changed my strategy. I invested time in researching each company's job roles and customized my CV and cover letter. This time, the results were astonishing:
35 resumes sent
20 rejections
5 first-round interviews
2 second-round interviews
1 final-round interview
1 job offer
1 job offer for every 35 applications? This might seem like a low conversion rate. Well, compare it to my previous numbers. I had 0 responses on over 150 job applications.
Fast forward to today, this is a huge achievement for me.
How Many Pages Should Your Technical Writer's Resume Be?
KISS. Keep It Short and Simple. This means your technical writer resume needs to be NO longer than 1 page.
Why?
That's it. That's all it takes for a hiring manager to go through your resume and decide if you are the right technical writer.
This is where you need to put your technical writing skills to land that dream job.
Resume Best Practices
Here are 5 writing tips that will help you in writing a perfect technical writer resume:
1. Write a Customized Cover Letter
Customize your technical writer cover letter to fit the job role. It should reflect your interpersonal skills and how you can add value to your employer's organization.
2. Update Your Resume for Each Job Role
Every job description and role is different. A golden rule of thumb is to iterate your resume according to a specific job role. For example, if the job role is a senior technical writer on technology, update your resume for that role.
Hiring managers prefer candidates who have personalized their cover letters and resumes according to the job roles.
3. Link to Your Technical Content Portfolio
You can't underestimate the importance of having a personal website.
Think about it for a second. Few technical writers have personal websites. Those who do will stand out from the rest.
Having a website with links to a technical content portfolio will improve your chances of landing the right job, despite competition.
4. Mention Relevant Work History
Don't write anything in your CV that you'll have a hard time justifying later on. This means that your work history should only refer to relevant jobs.
For example, if you haven't written on a medical topic in one of your previous jobs, don't mention it. You should have a deep knowledge of the job you're applying to.
5. Proofread Before Applying
Are you kidding me? Despite having excellent writing skills, you had long sentences and spelling errors in your resume?
But you're applying as a technical writer, right? You can't afford to have any mistakes in your technical writer resume.
No matter how skilled you are, one grammatical or spelling error is enough for rejection.
It is a technical writer's job to ensure the final work is free from errors. This isn't limited to user manuals, technical manuals, and new technical documentation. It also applies to your technical writer resume.
Technical Writer Resume Don'ts
Here are several extra don'ts for your technical writer resume:
Resume Summary and Objective
Why would you include a summary of your resume? I see this all the time with a couple of lines listed at the top of a resume. Your resume is already a summary of your job experience. You don't need a summary of a summary.
Photo
What does a photo tell me about your experience? Nothing. If you apply for a job outside of acting or modeling, there's no reason to include a photo. Moreover, they likely can find your photo by visiting your LinkedIn profile or searching your name on the web.
Irrelevant Experience
If you're like me, then you have over ten years of experience. The truth is no one cares what you did ten years ago. Many hiring managers don't care what you did over two years ago. What you did recently is what matters the most. Place emphasis on who you are today, not the fact that you worked in a restaurant during college.
Technical Writer Portfolio Examples
Here are some links to portfolio websites of writers that allow them to charge high rates in the industry:
Michal develops trust and connection with the visitor. She is confident and knows what she's selling. The copy above the fold, coupled with her picture, speaks to the client. Who isn't going to hire her?
Not the most visually appealing website. But it is clean, simple, fast, and conveys professionalism without wasting any time. Mary knows that her profile description and picture stand out. I would give her the first preference if I needed professional reports or a writing coach.
I loved the way Emily portrays her experience in 2 lines. This is an excellent example of a professional resume summary, along with links to her work.
Where Can You Apply With Your Technical Writer Resume?
Your resume is now the single best marketing weapon to land high-paying jobs.
This is your time to apply for technical writing jobs found on the following job boards and international freelance marketplaces, such as:
Now some of these sites may not seem appealing to you. Do you want to write technical articles for cheap clients through Fiverr? Yes and no. If you need experience to put on your resume, any freelancing technical writing experience will help. It's rare to step into a technical writing job without some technical writing or other relevant experience (e.g. English degree, engineering background).
Technical Writers' Median Pay and Outlook
According to BLS (US Bureau of Labor Statistics), the median pay for a technical writer is $74,650 and the hourly rate is $35.89. To make this amount of money, you need a resume that helps you to stand out.
But that's not the only reason for writing a technical writer's resume.
Technical writers have the fastest growth in any occupation, at 12%. By 2030, there will be 5,500 new projected technical writer job openings every year.
Numerous entry-level technical writer jobs earn between $40,000 to $50,000, but as a skilled senior writer, you can reach the six-figure mark. Here is factual data on technical writing jobs in the US:
Estimate of Entry-level Technical Writer at HP: $43,630
Experienced Technical Writer at Apple: $115,885
Senior Technical Writer at Dell: $105,000
The continuing expansion of B2B and SaaS products/services has resulted in increasing the employability of technical writers. With the release of new software applications, the demand for technical writers to write onboarding manuals, user guides, and tutorials will rise.
Despite this, companies can't find the right technical writers for the following reasons:
Writers can't understand the software program.
Job post was not promoted or posted on the right platforms.
Resumes were not received from technical writers.
Technical writers haven't submitted well-crafted resumes.
Selling is at the heart of every business, and as a technical writer, you need to master the art of selling yourself as the most reliable candidate.
Summary and Key Takeaways
We've covered a massive amount of information on how to write a technical writer's resume. We always strive to provide as detailed and relevant information as possible to help you in your professional career.
Let's take a look at the bigger picture. Here's a summary of the entire guide:
Be relevant and use reverse chronological order wherever relevant.
Personalization is the key.
Include the right keywords so that ATS doesn't filter out your resume.
Never apply without proofreading.
Use a sniper approach.
Writing a technical writer's resume is challenging, yet rewarding at the same time. It can take anywhere between an entire day up to a few weeks to write that perfect resume.
With so much competition, you cannot and should not rely on a generic resume template. Hiring managers will easily figure it out.
I have full faith in you.
After reading this guide, it's time to craft your professional resume.
To help inspire you, we have a before and after case study video here of how one of our tech writing students used this advice.
---
If you are new to technical writing and are looking to break-in, we recommend taking our Technical Writing Certification Course, where you will learn the fundamentals of being a technical writer, how to dominate technical writer interviews, and how to stand out as a technical writing candidate.