A knowledge manager ensures everyone in the organization has the information they need. A knowledge manager helps to create the processes and structures through which knowledge is recorded and shared. Knowledge managers work with key stakeholders, inside and outside the organization, to optimize the management and use of organizational knowledge.
Whether you call them knowledge ninjas or wisdom warriors, knowledge managers are becoming increasingly important for organizations. They help businesses share best practices and ways of working. This helps employees acquire new skills and excel in their roles. The net result is a learning and growing organization.
This article will explain the knowledge manager role, responsibilities, skills, and qualifications.
Knowledge Manager Role
Organizational knowledge is a vital asset. Organizations rely on knowledge management to safeguard this asset and to create a culture of knowledge sharing that benefits employees and the business's bottom line.
Professionals with a knowledge manager job title head a knowledge management department. The role of a knowledge manager is to oversee and control all knowledge management aspects of a business. A knowledge manager leads a knowledge management team that develops and implements a knowledge management system. The systems are based on processes and procedures that are based on knowledge management best practices.
Based on long-term goals and with input from higher management, knowledge managers develop knowledge management strategies. These strategies help the business achieve its short-term and long-term objectives. Knowledge managers and their teams are accountable for compliance with the company's expectations and strategy.
Knowledge managers oversee the selection and implementation of electronic knowledge management tools for knowledge capture, storage, and sharing.
They work effectively across the organization with stakeholders, change management, subject matter experts, and trainers to develop and support new and existing products, features, and services.
Knowledge Manager Duties and Responsibilities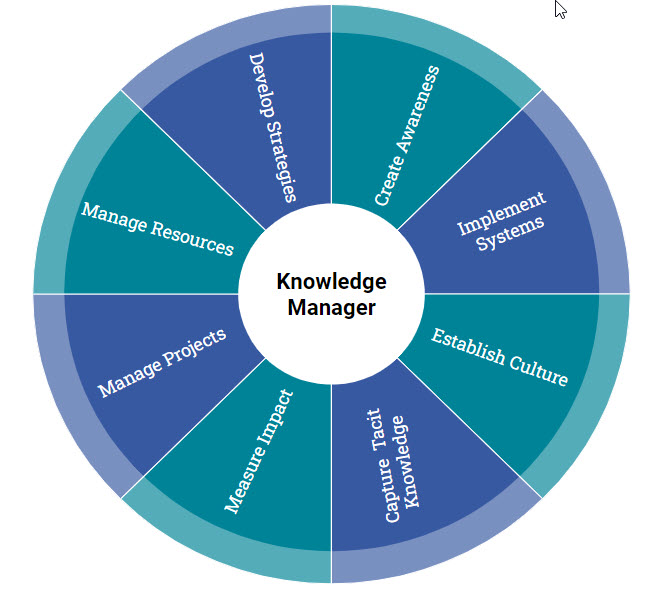 A typical knowledge manager job description includes the following responsibilities:
Hire and Manage Resources
A knowledge manager hires resources, trains them, and manages them to implement organization-wide knowledge management systems.
A knowledge management professional takes on the role of a knowledge manager after spending years working in various organizations. This experience is key because it provides the insight, communication skills, and soft skills required to hire good resources and manage them effectively.
Resources require training on various tools and technologies used for knowledge management. The knowledge manager in coordination with other departments, including HR and IT facilitates this training.
Knowledge managers assign short-term and long-term targets to the resources and supervise and guide them to achieve those targets.
Develop Knowledge Management Strategy, Policies and Standards
Every organization has strategic goals, and the policies for each department are aligned with those goals. With input from management and their team's help, knowledge managers contribute to developing knowledge management policies, standard operating procedures, and standards.
Changes in the regulatory and business environment often require changes to organizational strategies. Knowledge managers keep an eye on the "big picture": the business environment, regulatory landscape, and emerging tools and technologies, and continuously optimize the knowledge management strategy, policies, and standards.
Ensure Employees are Aware of Knowledge Management Processes
Strategies, policies, standard operating procedures, and standards are only beneficial if employees are aware of them. Creating this awareness is one of the major responsibilities of a knowledge manager.
It is impossible to perform this task in isolation. A knowledge manager creates this awareness with the help of higher management, HR, and managers of the various departments. Whether it involves frequent training sessions or the creation and dissemination of documentation such as procedure manuals, a knowledge manager has to ensure that employees are aware of and use knowledge management processes for capturing, organizing, storing, sharing, and effectively using knowledge.
Implement Knowledge Management Systems
Knowledge management policies and standards guide the implementation of knowledge management systems. The policies and procedures serve as guidelines and frameworks for the implementation.
Various tools and technologies are used for knowledge management: examples include document management systems, content management systems, and corporate intranets. Knowledge managers select the tools that the organization requires and implement them with the help of their team and other departments, such as IT.
Establish a Culture that Promotes and Supports Knowledge Sharing
One of the cornerstones of knowledge management is knowledge sharing. No knowledge management initiative can succeed without it. A knowledge manager works as a coach and facilitator, nudging teams and individuals toward improving their knowledge-sharing practices.
A knowledge manager enables streamlined information flow between tools and creates conditions for knowledge flow between people in the reorganization. Both informal and formal structures are used. An example of an informal structure is a gathering or meeting for information sharing. An example of a formal structure is mentoring and peer learning.
Establish Systems for Capturing Tacit Knowledge
Tacit knowledge refers to the knowledge, skills, and abilities an individual gains through experience. It is knowledge that is often difficult to put into words. Even though tacit knowledge may make an employee a stand-out performer, it doesn't help others in the organization.
A knowledge manager's responsibility is to put systems in place for converting tacit knowledge to explicit knowledge, organizing it, and then sharing it throughout the organization. This way, knowledge doesn't stay in someone's head, but rather this new knowledge becomes an organizational asset that benefits whoever chooses to use it.
Monitor and Measure the Impact of Knowledge Sharing
Knowledge managers assess a knowledge management strategy's impact, engagement, functionality, and effectiveness. They measure the qualitative and quantitative impact of knowledge sharing. They use analytics to track metrics such as contributions, interactions, and response time to measure the qualitative impact of knowledge sharing. They also look at the quality and speed of decision-making, changes in the rate of innovation, and quicker problem-solving to measure the qualitative impact of knowledge sharing.
Feedback from users coupled with the ability to measure the impact gives knowledge managers the insight they need to make any required improvements and changes.
Manage Projects
A knowledge manager has to manage multiple projects at the same time. The implementation of a new learning management system, updates to the content management system, and a training session on the new knowledge base software may be taking place at the same time.
Projects involve different stakeholders, timelines, and priorities. Therefore a knowledge manager has to learn the art and science of project management.
Knowledge Manager Skills
A good knowledge manager requires the following skills to function effectively:
Awareness Level Skills
An understanding of the principles of knowledge management.
An understanding of the need for knowledge management in the corporate environment.
Practitioner Level Skills
The ability to work with stakeholders to identify knowledge management skills gaps and proactively develop relevant services, training, advice, or guidance to meet business needs.
The ability to apply best practices for knowledge management.
The ability to advise on how to best deploy information architecture in support of good knowledge management, e.g., by structuring knowledge bases or expertise directories or deploying collaborative workplace software effectively.
Leader Level Skills
The ability to think strategically regarding culture and behavior, business processes, technology, and tools.
The ability to develop networks and relationships to ensure knowledge management is integral to strategic decision-making across the business.
Ensure continuity of access to corporate knowledge in periods of technological and organizational change.
Influence organizational strategy to ensure that knowledge management is recognized, valued, and resourced.
Knowledge Manager Qualifications
Having a university degree is not a requirement for knowledge manager roles. However, most organizations do prefer candidates with degrees.
Degrees
Most universities don't offer degrees in knowledge management. However, a degree in business administration or information technology is highly beneficial for those interested in taking on the knowledge manager role.
According to surveys conducted by Zippia, the most common degree for knowledge managers is a Bachelor's degree. Approximately 63% of knowledge managers have a Bachelor's degree, 22% have a Master's degree, and 2% have a Doctorate (Ph.D.).
Approximately 23% of knowledge managers major in business, 11% in English, 6% in Computer Science, and 6% in Computer Information Systems.
The level of education also affects salaries: knowledge managers with a Master's degree earn more than managers with a Bachelor's degree.
Certifications
Certifications are another way a knowledge manager can improve credibility in the marketplace. Below we highlight some of the valuable certifications for a knowledge manager.
Project Management Professional (PMP)
The Project Management Professional (PMP) is the world's leading project management certification. It now includes predictive, agile, and hybrid approaches. The PMP designation demonstrates to current and potential employers that you have demonstrated a solid foundation of knowledge from which you can competently practice project management.
Candidates must meet specific educational and project management experience requirements and agree to adhere to a code of professional conduct.
The final step to achieving the credential is passing a rigorous exam. The exam is designed to objectively assess and measure your ability to apply project management knowledge in the six domains: initiating the project, planning the project, executing the project, monitoring and controlling the project, closing the project, and professional and social responsibility.
CERTIFIED KNOWLEDGE MANAGER (CKM®)
The Certified Knowledge Manager (CKM®) is the Flagship Certification course from the Knowledge Management Institute (KMI).
The CKM is ideal for a knowledge manager tasked to lead or improve a Knowledge Management initiative. Whether public or private sector, large or small – the CKM is the leading international standard for all knowledge management professionals and the top choice for anyone interested in gaining a solid grasp of common KM principles at an advanced level with actual "hands-on" experience performing KM. There are no prerequisites, and no technical background is required.
IT Information Library Foundations Certification (ITIL)
The ITIL Foundations Certification course is designed for all IT service and support staff members. It helps you understand how IT service and support can be best organized to align IT with business needs, improve service quality, and reduce long-term costs.
The main benefits of this ITIL certification for a knowledge manager are
Gain an understanding of the ITIL framework and its relationship with the 10 foundational processes and Service Desk function
Learn how ITIL processes can be utilized in organizations of any size
Promote a common vision and language within the IT infrastructure.
Online Courses
A knowledge manager candidate can also take online courses on knowledge management and related topics offered by leading MOOC providers such as edX, Coursera, and Udemy. One of the major benefits of these online courses is that they are the most economical method of getting a comprehensive overview of the knowledge management discipline.
Even though online courses don't have the same credibility as degrees or certifications, they demonstrate your willingness to learn and acquire a body of knowledge to potential employers.
Conclusion
A knowledge manager plays a key role in developing, protecting, and using an organization's intellectual capital.
Knowledge managers serve everyone in the organization, regardless of their role. They understand what everyone does and what problems need solving now and in the future.
The requirement for knowledge manager jobs is expected to increase by 11% annually. It is a lucrative career path whose importance will only increase as more and more companies recognize the importance of dedicated knowledge managers for safeguarding and optimizing the use of their intellectual capital.
FAQs
Here are some of the frequently asked questions about knowledge managers.
What is the average knowledge manager salary?
According to estimates from Glassdoor, the knowledge manager salary range in the US is $62,000 to $170,000. According to salary estimates from Zippia, the national average salary for a knowledge manager has risen from $65,500 in 2014 to $83,900 in 2023. The salary estimates vary depending on several factors, such as experience, location, and industry.
How do you become a knowledge manager?
To become a knowledge manager, the first step should be obtaining a bachelor's degree in business management or a related discipline. A degree carries credibility in the job market and will also help you advance to higher-earning positions more quickly.
Based on the degree, you can start your career at an entry-level position in the knowledge management department of an organization. After a few years of experience in the technical- and management-related aspects of knowledge management, and with continued education such as certifications, you can take on the role of a knowledge manager.
The size of the company and available resources determine whether the knowledge manager is a dedicated resource or is a "hat" worn by someone wearing other "hats." This means that you can also transition to knowledge management from IT or project management, use the opportunity to gain experience, and then take on the role of a dedicated knowledge manager in a company with more extensive resources and needs.