You've stumbled onto a document and aren't sure if it's the most recent version? Inquiring minds want to know if the document you've stumbled onto is valid and up to date. This blog post describes document control and how it helps you and your team trust the documents you work with.
What is Document Control?
Document control is a document management profession whose purpose is to enforce controlled processes and practices for the creation, review, modification, issuance, distribution, and accessibility of documents. Document control, which you can use in a wide range of industries, is a critical component of risk management in an organization. It is not to be confused with Electronic Document Management Software, Content Management Software, or Document Control Databases. These software applications are just some of the many tools available to document controllers.
If you're interested in learning more via video then watch below. Otherwise, skip ahead.
What Is the Purpose of Document Control?
The goal of document control is to ensure that users can rely on the information in the documentation and that it is up-to-date, reliable, checked, and formally approved. In addition, document control also creates auditable records of the activity surrounding the production, the exchange, and the modification of documentation.
Document control is an essential part of a company's quality control system (QMS). Document control ensures that you use approved and up-to-date documentation throughout an organization. Document control criteria set forth by ISO 9001 apply to regulated businesses.
When Should a Document Be Controlled?
If a document needs any of the following characteristics, then you should perform document control:
Product verification, inspection, or testing.
Determine or govern processes.
Production employees need to make decisions.
Collect information.
Train workers.
Meet ISO 9001 requirements.
Why Should You Use Document Control?
Organizations must maintain control over the documents required by the quality management system. Furthermore, it is essential to keep and control records as proof of conformity with requirements and to demonstrate the success of the quality management system's operation.
A document control system is based on best practices in document management, and it is designed to make the firm run more smoothly and intelligently.
Let's take a look at some of the benefits it offers businesses.
Better Accessibility to Documents
A robust document management system makes all of your documents, including all documents, quickly and easily accessible, allowing you to evaluate and review documentation before authorizing new product lifecycle stages. Then, if something appears wrong, you may backtrack to prior versions and trace any component to identify and correct any problems detected.
Improved Responsiveness from Critical Stakeholders
A more responsive organization results from a good document management system. Moreover, this kind of responsiveness might unintentionally offer a significant boost to team morale.
More Accountability Around Business Practices.
Document control allows your organization to generate higher levels of responsibility which improves both your team and your processes.
Improved Document Security
A solid document management system keeps your documents and their information safe and secure. Conversely, an ad hoc document control system is more likely to rely on the security practices of third-party vendors that do not share your motivations.
Increases Productivity
Nearly half of all knowledge workers spend their time hunting for information. Therefore, you should carefully control the document lifecycle and use metadata to ensure that employees can find any document in seconds.
A robust document control method also guarantees that employees work on the most recent document version.
Improves Change Management
A good document control system makes it easy to track who has access to what, which version stakeholders are working on, and where the most recent version is stored. As a result, you will be able to interact more effectively within your team and with external stakeholders once you have improved your ability to manage change.
Aids in the Retrieval of Data and Documents
Many businesses that do not have intelligent document control have trouble retrieving documents. Consider what would happen if every employee spent 15 minutes per day looking for a document or information.
Assists in Retrieving the Necessary Information on Time
Document control allows you to have complete control over your documents. Because the term "control" appears in "document control," taking control of documents ensures that you have the most up-to-date information. Document control ensures that all document versions are saved, and the document you're looking at is the current (latest) one.
Improves Inspections and Audits
Audits appear to be all about the details, but they are also about perception. A good document control system aids you in presenting your organization and its procedures to auditors.
We want to explain this using a scenario. When the auditor requests your CAPA documentation, you're in the middle of an audit.
You remember this corrective action vividly: one of your most brilliant engineers discovered a flaw in a product that prohibited it from working as intended under certain conditions. Your team researched the problem and determined the necessary corrective action.
Your team eventually made you proud: they fixed the flaw and documented everything.
There's just one problem: where is the document that recorded it all?
Your team's efforts to correct the flaw are meaningless to the auditor.
It didn't happen if it wasn't documented.
"But that did happen!" you could argue. You did document it. Similarly, a lost document is just as useful as a document you never generated.
Inspectors will further probe if you can't find the needed documents since you have demonstrated that they can't trust the system you have implemented.
When documentation goes out of date, it's like playing whack-a-mole to find and update previous versions. Moreover, with an inspector on the way, your team may go into a tailspin, scurrying all day and night to gather the required documents, which means more stress for your team and, worse, an inspector with too much free time.
Inspectors and auditors are kept occupied by reasonable document control since they can always draw up the documents they need at a moment's notice.
When they ask for a document, your document control system can bring it up with the touch of a button, and you can send it over knowing it's the most recent version with all the necessary signatures.
Creates Traceability
Who, when, and with what technical or commercial content transmitted this material to whom?
What is the purpose of traceability, and why do we need it? Because it assures that you never lose track of what is going on with your documents, project, or department.
Daily, the flow of information and exchanges is crucial that you can't remember everything that happened.
You can use document control and traceability to maintain the record.
Protects a Company's Interests
In the event of an incident on an installation, it is vital to get the most up-to-date suitable documentation for that installation immediately.
You will have much trouble doing that if your company doesn't have a proper document control system.
Aids Audits
You can't deliver the relevant information to auditors (internal or external) on time if you don't have professional document control.
Aids Consistency
Document control inside a corporation (or a project, a department) entails adhering to the same standards, standardizing documents, and adhering to industry norms and legal requirements.
Delivers Critical Project Status Information.
Daily professional document control allows you to know the status of project deliverables at any moment.
Aids Information Security
By assisting in defining document access rules (who can access a document, who can read it, who can alter it) and putting these restrictions in place either on network drives or within document control/document management software, you ensure information security. As a result, document control prevents unauthorized changes to documents and access to documents.
On the other hand, specifying the rules for document access ensures that anyone who requires access to a document can obtain it.
Any company's document control is crucial.
To summarize, implementing document control and investing in skilled professional document controllers is the best way to protect your company while ensuring access, management, and security for your documents and information.

What Is the Purpose of a Document Control System?
Compliance is almost certainly a top priority if you're looking at document control systems for a highly regulated business. The right solution can improve information security, increase transparency, reduce business continuity risks, and offer other benefits.
Global Collaboration
In the past, paper-based methods to document control systems necessitated document interchange via mail or fax machines. However, these excessively manual, cumbersome methods might dramatically delay document inspection, putting documents at a competitive disadvantage in highly regulated companies rushing to market. Today, cloud-based DCS software can enable real-time worldwide collaboration among a scattered workforce with simple access from desktop computers or mobile devices.
Stronger Access Control
In highly regulated businesses, DCS may implement robust, compliant identity and access management (IAM) policies to ensure that only the right individuals have the right access at the right time.
Improved Compliance
The right electronic document control system can make it easier to comply with complicated regulatory standards for document management.
Disaster Recovery
Both old DCS software and paper-based approaches to document control can pose serious documents to successful business continuity. On the other hand, cloud-based techniques can provide dispersed storage of documents off-site to ensure your business can swiftly recover from challenges to data security.
Information Transparency
Document control systems should play a key role in identity and access management by preventing sensitive documents from being exposed to the wrong people. They should also offer easier access by allowing authorized parties to quickly search, find, and retrieve archived and active documents.
What Should You Look for in Document Control System Software?
In the market, there are hundreds of solutions and vendors promoting "document control system software." Consider vendors who provide natural search, customizable document templates, regulatory compliance, and other critical features to fulfill your company's demands for a compliant DCS.
Simple Search and Navigation
Document management software should have capabilities for organizing data and searching based on user-defined criteria such as keywords or dates. Therefore, vendors who allow you to attach metadata such as document type or date to files using tagging or customized keyword fields should be prioritized.
Support for Multiple Document Types
Think about all of the different types of documents your organization may need to handle in the future and if a solution provides adequate support. To record documents such as training outcomes, management review agendas, SOPs, CAPA, and quality results, you will most likely require support for spreadsheets, XML files, PDF documents, Word documents, and image files.
Integration of Learning Management Systems
Depending on your industry, you may be required to provide employees with environmental, SOP, and cGMP training that meets the criteria for installation qualification, operational qualification, and performance certification.
Why Is Document Control Such an Important Function in Manufacturing Firms?
Manufacturing firms rely on document control to maintain efficiency, performance, reliability, traceability, and quality throughout the product life cycle.
What Are the Requirements for Document Control?
Document Control Requirements are:
Before release, materials are reviewed and approved for adequacy.
Documents are reviewed, updated, and re-approved as needed.
Identifying changes and the current status of document revisions.
Ensuring that relevant versions of pertinent documents are available at points of use.
Assuring that documents are readable and easy to locate.
External documents must be identified and distributed in a regulated manner.
Preventing unintentional use of obsolete documents.
Document identification, storage, protection, retrieval, retention, and disposal policy or method.
What Are Document Control Procedures?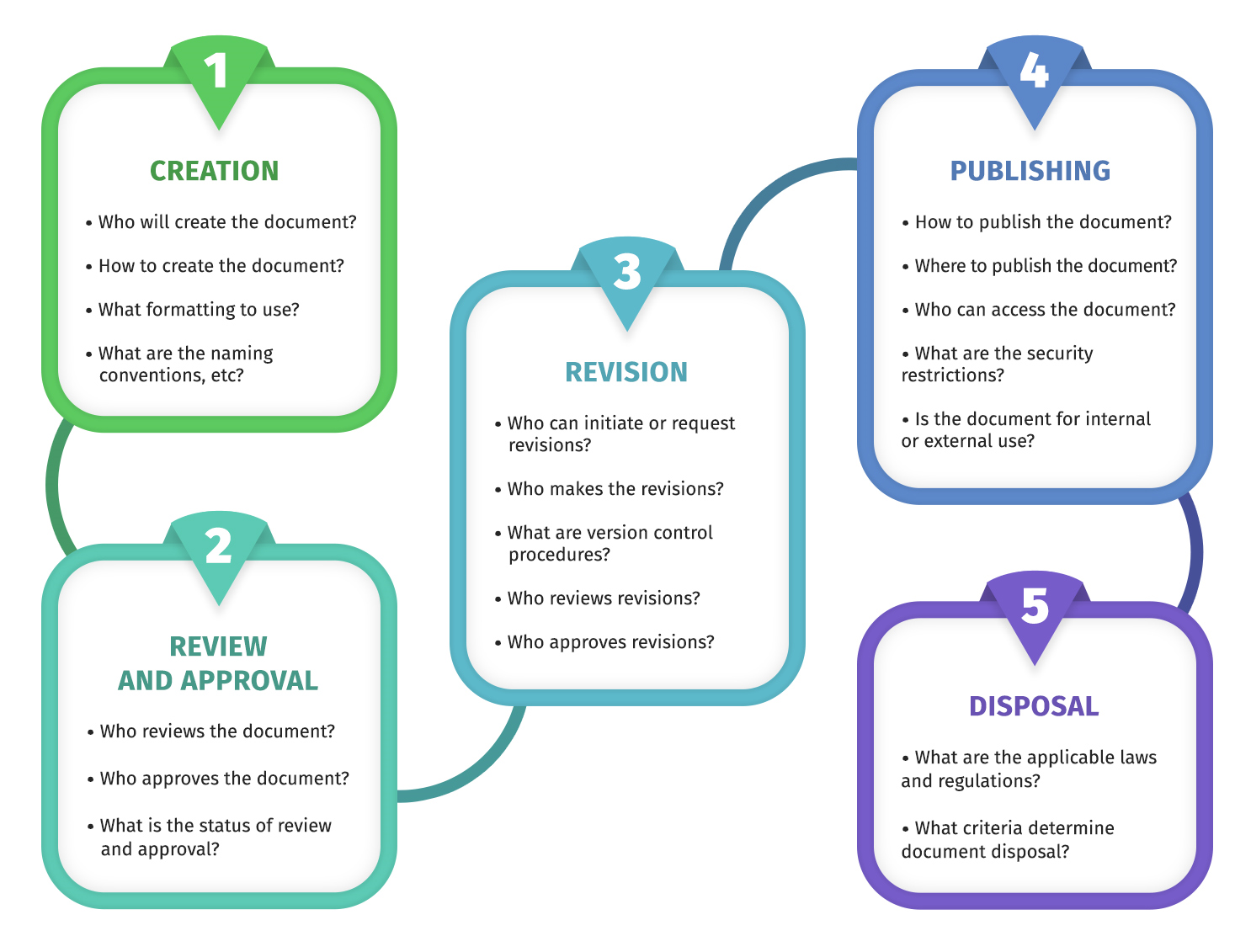 Here are a few examples of procedures used for document control.
1. Creation
The document control procedure determines who creates a document and how the document is created where it includes information such as how the document is formatted, named, and other technical specifications.
2. Review and Approval
The document control procedure specifies how a document is evaluated, who approves it, and how approvals or revisions are recorded. In addition, you must check documents for accuracy, following quality assurance guidelines.
3. Revision
Even once documents are finalized and accepted, they frequently require future revisions. The document control process determines document modifications. The processes specify who has the authority to begin or seek adjustments and who is responsible for putting them into action. Throughout the document's lifespan, the document's revision levels, publish date, document owner, and following review date are all controlled. When updates are completed, they go through an approval process comparable to or identical to the document review and approval process. The document control protocol also specifies how a document's revision is identified.
4. Publishing
Document control procedures specify the boundaries of how and where a document is published and who is authorized to have access to it once it is finalized and approved. For example, publishing criteria may specify whether a document is available internally or externally, where it is made public, and what security limitations apply to it, among other things.
5. Disposal
Another critical operation detailed in the document control system is obverting documents or removing them from availability. Obsolete documents can be determined by date or arise when they are replaced.
Who is a Document Controller?
A document controller is a professional who facilitates controlled processes and practices to ensure the accuracy, validity, and reliability of documents at every stage of their existence to minimize risks for their organizations and give users trust in the documents at their disposal.
The Document Controller is in charge of managing documents on a Project or in a Department daily.
The role can be internal or external; most document controllers work for external certifying organizations, assisting firms in complying with ISO standards and obtaining the associated certification. However, it is not uncommon for mid-sized and large firms to hire document controllers. In these circumstances, the role frequently necessitates technical skill in one or more areas, which is critical to comprehending the operations described in the documentation. It's also worth noting that software does not replace the necessity for document controllers, as the role entails identifying, tracking, and developing procedures for information dealing inside a corporation.
Some activities of a document controller are:
Managing internal and external documentation of the company.
Examining the documents for compliance and quality.
Keeping a list (register) of documents and files them.
Distributing documents to those who need to know.
Communicating with the client, the contractor, and the subcontractor.
Reporting on how documents are progressing.
How Do You Keep Document Control?
In general, maintaining document control necessitates that the organization follows the procedures that have been developed for that reason. As a result, traceability and clear access points for documentation are critical; if it cannot be accessed, traced, or demonstrated, you see a process failure.
Five initiatives can help in maintaining document control:
Hire qualified document controllers.
Define clear procedures.
Teach teams how to follow these procedures.
Fourth, select the appropriate software tools for document control.
Finally, review and alter the outcomes regularly.
Steps for Efficient & Quality Document Control
The following are some measures that any document controller should take to assist them in mastering their control procedures:
Use Metadata
Metadata (data about data) is, without a doubt, the most significant phrase in information management. It's an essential part of document control's foundational tasks.
You must take advantage of metadata as a document controller to improve classification and retrieval.
Use Automated Workflows
The approval and review procedure is a part of the document lifecycle. As a document controller, you should determine the documents that need approval or evaluation before being released. You can automate this process to help the company operate more efficiently.
A decent solution lets you set up specific procedures for different document types and customize the entire document cycle. It also helps automate the approval process for various operations like leave requests, purchase orders, and invoices.
Always keep in mind that a flexible workflow is essential for process efficiency.
Microsoft Office and Office 365 Integration
Email is still the most common way for team members to share files and interact. Therefore, it is critical to have the ability to directly import data into the system from Outlook, Word, and Excel.
Another key advantage is the ability to save information, making importing documents into the system go faster.
Access to Documents Should Be Properly Managed
You must ensure that only those who need to see the documents have access to them as a document controller.
It's crucial to figure out who has access to the documents and what they can do with them when determining document kinds.
In document management systems, you may set the access level based on user roles and their permissions over the material. Some people, for example, can look at the document while others can edit it make changes.
Conclusion
In this blog article, we covered the subjects of what document control is, the purpose of using document control, when you should use document control, the purpose of using a document control system, why is document control such an essential function in manufacturing firms, the requirements for document control, the document control procedures, who is a document controller, ways to keep document control clean and tidy, steps for efficient and quality document control.
Document control is essential for any organization. Therefore, information deserves to be treated with care and confidentiality.
If you're interested in learning more about document control, it's a rewarding journey that helps you and your team trust the documents you work with.
---
If you are new to document control and are looking to learn more, we recommend taking our Technical Writing Certification Course, where you will learn the fundamentals of managing technical documentation.