Writing a successful grant proposal isn't easy. It takes research, creativity, and precision to craft the perfect document for prospective donors to accept. The good news is that there are some great resources to help you with the process. 
In this blog post, we'll take a look at 6 of the best grant writing books for 2023, so you can learn how to write proposals that get funded. 
The Only Grant-Writing Book You'll Ever Need
The Only Grant-Writing Book You'll Ever Need by Ellen Karsh and Arlen Sue Fox is a helpful resource for those who are looking to write their first grant application. It provides step-by-step guidance on how to complete the process and get results. 
From building your idea into an argument that will convince donors to give you funds, this guide includes all of the steps necessary from start to finish to create successful proposals. It also discusses developing relationships with potential granters if you're a freelancer or nonprofit organization.
Ordinarily, getting funded isn't easy, but luckily with books like this one from Ellen Karsh, you get great help.
Furthermore, when it comes to making grant writing a career choice, this book puts you in a driving position.
The Only Grant-Writing Book You'll Ever Need offers:
an essential primer for any aspiring grant writer

lessons on everything from how to layout a proposal, what tone of voice each section should have, and when it's appropriate to use numbers

hands-on exercises for practice
About the Authors
Brought together, Ellen Karsh and Arlen Sue Fox have over thirty years of experience in grant writing. They understand the nuances to what makes a successful grant proposal – from understanding how competitive grants work to tailoring your message for different types of grant opportunities – and they know exactly where you should look when submitting proposals?
How to Write a Grant: Become a Grant Writing Unicorn
This book provides clear and practical advice on how to write grants, from tips on finding grant opportunities that match your goals, creating the perfect proposal, and following up with potential granters. 
Grant writers are powerful changemakers who do a lot of work for communities. They know how to build teams or forge partnerships with other professional partners to get their projects off the ground. 
Writers could use their skill in an art form – only those members who have put time into learning it will successfully get foundation grants.
If this is how you feel, this grant writing book is for you. It filters only the best information on grant writing so that your proposal writing sees acceptance for whichever organization you work for, whether a nonprofit or research institute.
It covers topics like: 
How to write a grant in seven steps

How to write a convincing narrative

Where to find grant givers and match helpful opportunities 
You also have bonus access available to templates that will help you save time when applying for those very same funds. Enter information into prefilled cells or copy data from other places within Excel to save hours of tedious work every week and much more.
About the Author
Meredith Noble is America's foremost cattle rancher, and she splits her time between Wyoming and Alaska. This 5th generation beef producer founded SenecaWorks to teach others how to be talented grant writers, the best in their class.
The Beginner's Guide to Grant Writing: Tips, Tools, & Templates to Write Winning Grants (Grant Writing & Funding)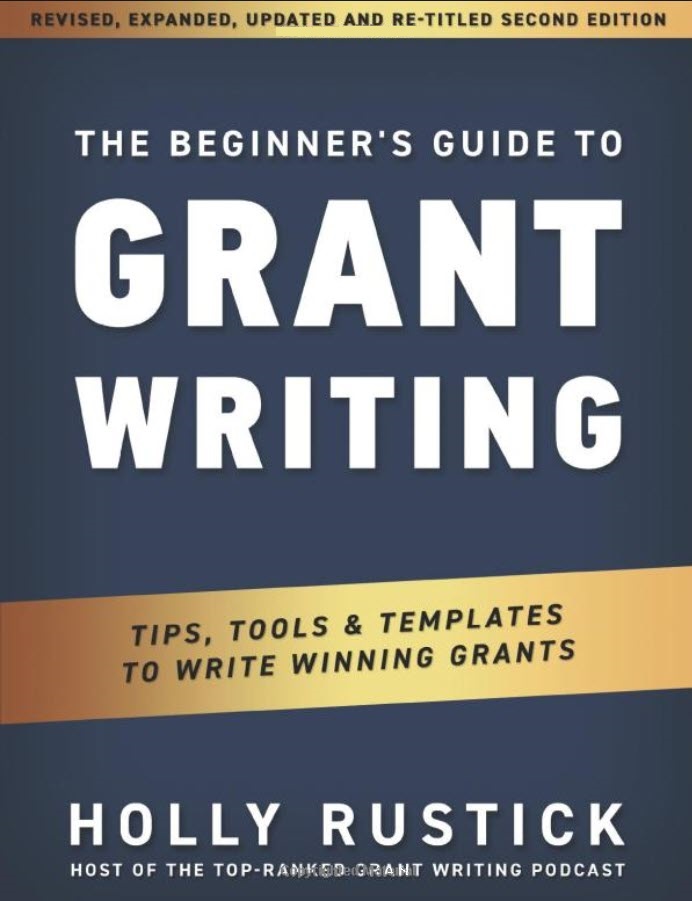 If you're new to grant writing, this guide will show you how to write clear and compelling grant proposals. You can get tips on finding the right grant givers for your organization, crafting a compelling narrative that tells donors what they'll do with their money; and, organizing information in simple-to-read tables and charts.
Do you want to know the secrets of securing grant money for your organization? This book will teach and guide you on: 
How to find grant givers

Decipher between myths and truths about them

Learn what categories exist

Develop a mindset that is perfect for writing successful grants-and get all parts right
After reading it, cover-to-cover with its resources such as templates and video series included too; anyone can be an expert at finding lucrative grants.
It is not just another dry book about writing boring proposals. It's packed full of advice from someone who has secured millions of dollars in successful funds for nonprofits like yours.
About the Author
Holly Rustick, the creator of WEGO Consulting, is known as "the go-to person" for writing proposals in North America with over ten years of experience writing proposals herself or reviewing them on behalf of companies worldwide.
Grant Writing For Dummies (6th Edition)
In Grant Writing for Dummies, 6th Ed., you'll find everything from grant research and writing basics to details on government funders. This book includes tips about creating an effective proposal, a sample cover letter, personalizing your request with numbers that show impact, working well with staff at foundations, and understanding what it takes to get funded. 
The new edition covers nonprofit-specific topics such as developing partnerships between nonprofits and corporations or using the Internet effectively when seeking funds.
Read at your own pace to become a grant writer, polish your existing grant writing skills, and win funds frequently. 
Inside this book, you'll find:
How to get your hands on public or private grants? 

How to write a strong statement of need tailored towards prospects? 

Know about existing federal regulations

Ways to apply for grants online
The sooner you address these issues, the greater are your chances of success as a grant writer by targeting all aspects of finding funds. Not all grant writing books cover so many facets of the subject. We highly recommend it.
About the Author
Dr. Beverly Browning is a 40-year award-winning grant writer and consultant who has helped others strengthen their professional acumen through organizational capacity building, gaining more than $450 million in contract awards for clients she's assisted. She's the author of 43 publications on various topics related to obtaining grants.
Price: $7.71 (Available in Kindle format)

Total # of Amazon reviews: 450+

Buy the book on Amazon by clicking

here

.
How to Write a Nonprofit Grant Proposal
The next book on our list is "How to Write a Nonprofit Grant Proposal" by Robin Devereaux-Nelson. The book is a beginner's guide on how to write successful proposals. In this book, the author helps you create excellent grant applications and provides follow-up tips.
The book explains:
Goals and objectives, and why do they matter? 

Proposal writing in general: What a good proposal looks like, making your case compelling, tailoring your application to a particular granting agency's needs 

Each stage of the process from prewriting through submission—and beyond: staying connected after submitting; following up with granters who have not responded; maintaining records about funding sources so you can keep track of when deadlines come around again next year

How to create the budget section of the proposal?

Strategies to adopt when funding organizations accept your application or deny it
We highly recommend this book with thorough information about the different types of grants and how you might find them.
It includes multiple resources to help people research grant opportunities, complete applications, and make a case for why they are deserving recipients. Furthermore, you can learn about contact names in federal agencies, state government offices dealing with economic development or human services programs, and foundations that award grants of certain kinds.
About the Author
Robin Devereaux-Nelson authored this book in collaboration with Content Arcade Publishing, a well-known Amazon Kindle Direct Publishing publisher.
Content Arcade Publishing is an independent publishing company that provides high-quality books for all readers on Amazon. It has a vast library of more than 200 e-books and print novels that cater to millions of book lovers, featuring many established authors. 
Price: $9.99

Total # of Amazon reviews: 130+

Head over to Amazon to buy this

helpful resource

today.
Grant Writing: The Complete Workbook 
Do you have a project idea that needs to be made into reality but requires funding? This workbook shares resources to find funds, plan and write grant proposals that win.
So, if you're looking to make a difference in the world and no one knows how else to fund your project, then this book is for you. It guides on locating those precious donors who can help out with some cash, as well as practical exercises that will get your project rolling.
The book answers questions such as:
How do I apply for a grant? 

Can anyone apply, or is it limited to certain people only? 

What information should I include in the application process, and how detailed does that need to be?
Grant Writing is the perfect way to implement your best ideas. Whether you're just starting or have been in business for years, this book will help get things done. You can find support templates and examples at the end as well.
About the Author
A graduate of the Maxwell School of Citizenship and Public Affairs, Mary Gladstone-Highland, holds a Master's in public administration with an advanced certificate in conflict management. She has raised over $3 million for numerous organizations as a certified fundraising executive.
Final Thoughts
These grant writing books have made a name for themselves to make the grant writing process as organized as it can be. And if you're looking to pair practical application practices and exercises with one of these books, then check out our grant writing certification course.
As a business, profit, or nonprofit, it doesn't have to be complicated when you seek funds from the government or foundations. 
A good grant writing book helps declutter the mind for a rich experience ahead.
It will enable you to write effectively and professionally when it comes to grants, which, in turn, will make your chances of getting the grant much higher. 
So invest in one today. 
---
If you are new to grant writing and are looking to break-in, we recommend taking our Grant Writing Certification Course, where you will learn the fundamentals of being a grant writer, how to write proposals that win grants, and how to stand out as a grant writing candidate.